GIG WORKERS IN THE REGION
Despite global uncertainty and challenges, restrictive economic policies, the war in Ukraine, persistent effects of the Covid-19 pandemic, climate change, and economic crises, the global digital work market has continued to expand. According to some estimates, freelancers now account for between 1 and 3 percent of total global employment.
The value of the worldwide digital work market reached more than US$1.5 trillion in 2022 and is projected to grow by 15 percent in the near future. Disruptive changes driven by information and communication technology have created large-scale innovation, causing fundamental shifts in both how work is done and what qualifications are required of workers, and companies have become increasingly reliant on freelancers to get the talent and skills they lack, increase process transparency, accelerate project delivery, and make savings. In the United States, the world's best developed market, 78 percent of all firms report having used freelancers, with 52 percent claiming to have relied on them on multiple occasions in the previous year. Three out of 10 Fortune 100 companies have reported hiring freelancers, as leading global firms lean increasingly on gig work in their business models.
This Gigmetar regional edition aims to track the evolution of the digital work market in South-Eastern Europe (SEE), including Serbia and Romania, long major global sources of freelance labour. Recent statistics point to particularly favourable trends in Serbia, where the total income earned by freelancers is projected to grow by 19 percent in 2023.
The purpose of the Gigmetar project is to recognise the general characteristics of the SEE gig work market and the similarities and differences between countries in the region, as well as to identify key regional trends and ongoing changes. In a re-emergence of a trend first seen at the time of the initial Gigmetar measurements, the digital work market has been experiencing robust growth. In the latest survey, the supply of platform workers (as measured by registered gig worker populations on the three largest platforms) rose by 13.5 percent, with cumulative annual growth exceeding 40 percent.
The regional gig workforce has grown by 13.5 percent. The smallest increase was recorded in Bosnia and Herzegovina (at 14.4 percent), whilst Bulgaria's freelancer population soared by 40 percent.
The Albanian platform work market was the most balanced in terms of gender, with women freelancers accounting for 44.2 percent of the workforce. By contrast, Bosnia and Herzegovina recorded the widest gender gap as women's share in the workforce stood at 29.8 percent in the latest survey.
Upwork has strengthened its regional dominance, with nearly one in two gig workers in the region now registered on the platform.
In the latest measurement, Croatian freelancers commanded the highest hourly rates of US$25.1. Conversely, North Macedonian gig workers earned on average no more than 68.5 percent of the Croatian rates.
Serbia had more freelancers active at the time of the measurement than Albania, Bosnia and Herzegovina, Bulgaria, and Croatia combined.
Bulgaria registered the smallest gender pay gap: women freelancers there earned on average 90.4 percent of what their male peers did.
LEADING PLATFORMS
Upwork, Freelancer, and Guru are the leading global platforms in SEE, with 148,272 freelancers registered in the latest measurement, an increase of 17,660 on all three platforms across the nine regional countries.
Romania and Bulgaria were the only two countries to see growth in all three gig marketplaces in the latest survey, with the increase far more pronounced in Bulgaria. Upwork and Freelancer added users in all other countries whilst the supply of workers on Guru fell. This growth was exceptionally robust but uneven throughout the region, which resulted in changes to market shares of the three platforms in SEE.
Upwork's growth has cemented its regional dominance, with nearly one in two SEE gig workers now registered on this platform. Adding a large number of new workers helped Freelancer increase its market share from 30.6 to 34.4 percent, whereas Guru registered a relatively large drop in its gig workforce that resulted in the contraction of its market share from 24.4 to 16.5 percent. Read more ...

These trends have driven change at the national level as well: Upwork is now the most popular platform in all countries save Romania, where Freelancer occupies the leading position. This is the second consecutive survey in which Freelancer has seen large-scale growth across the region, and the latest measurement has also found it to be SEE's fastest growing platform, with the exception of Bulgaria where Upwork is ranked first.

The greatest contraction in the market was seen with Guru in Hungary, where the gig workforce has nearly halved. This substantial decline was caused by Hungary being the only country with an unchanged number of freelancers, in contrast to the growth seen in other countries, with gig worker populations increasing to a lesser extent in Croatia (2.9 percent), Serbia (4.4 percent), and Macedonia and Bosnia and Herzegovina (4.4 percent each) and to a greater degree in Albania (17.2 percent), Montenegro (23.4 percent), and Romania (24.9 percent). Bulgaria recorded by far the largest growth of its freelancer population (at 39.7 percent).

Multiple factors, however, may have affected the accuracy of these estimates. Firstly, there has been a change to the methodology of how gig workers are presented on the various platforms, and, secondly, the same gig workers may have had multiple profiles on different platforms. The latter issue is not as significant since platforms have an interest in presenting only active workers available to potential employers and therefore update their gig worker databases fairly regularly. As such, even though some workers have profiles open on more than one platform, this does not affect estimates of the actually available workforce, since all those workers are active. That being said, duplicate or multiple profiles do have a bearing on how accurately the true number of gig workers in the region can be estimated.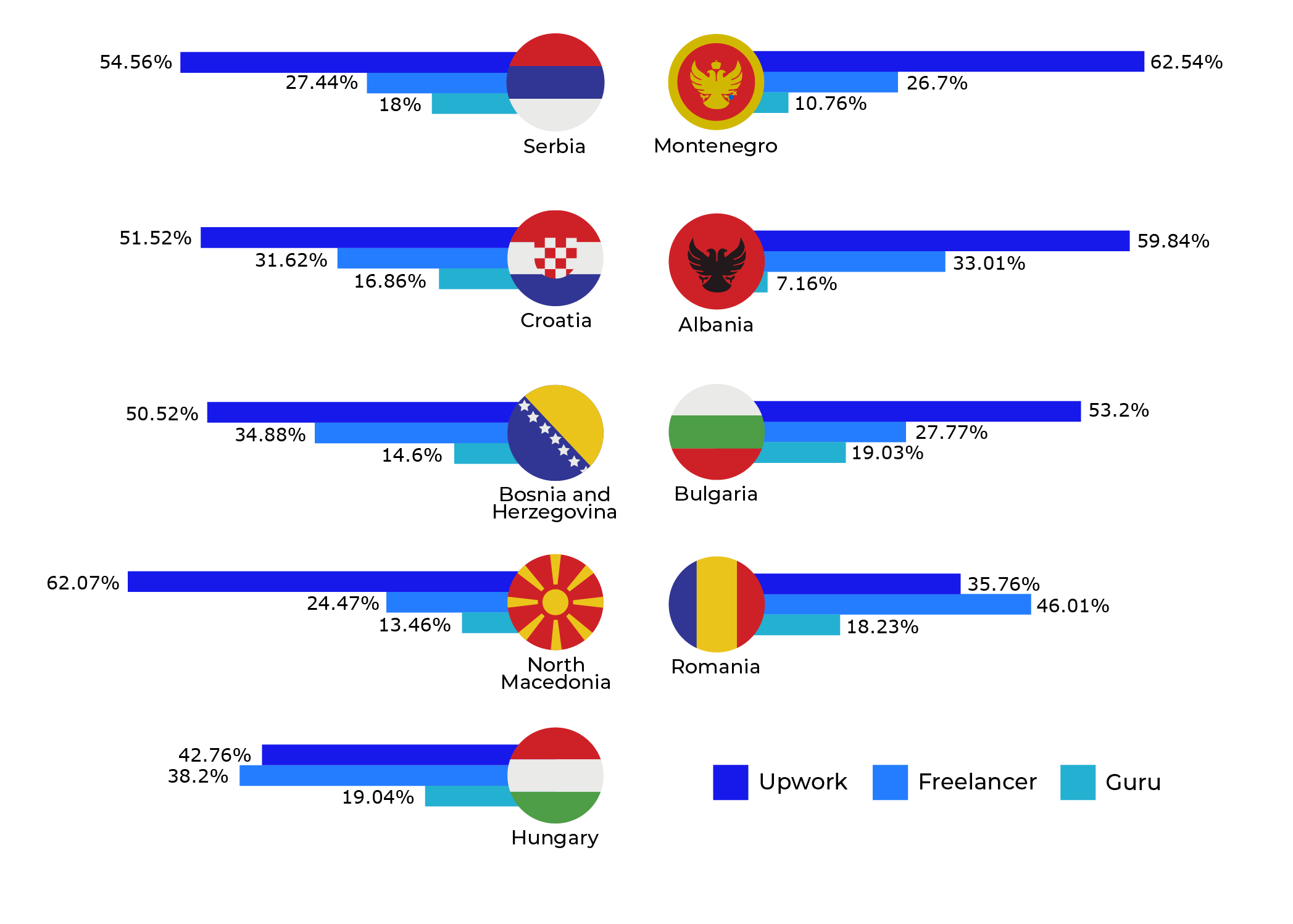 SHARE OF GIG WORKERS BY COUNTRY AS % OF REGIONAL TOTAL
The general characteristics of gig work markets – their geographical dispersion, occupations, gender balance, incomes, and associated distributions – were assessed against those of Upwork, SEE's major freelancer platform that accounts for nearly one-half of all regional gig workers. Upwork has not only retained its leading position amongst the three major marketplaces but has also seen its market share increase substantially.
In contrast to the previous measurement, the latest survey found more populous countries achieving higher freelancer growth rates. Here, Serbia and Romania, the two countries with the largest numbers of gig workers, have seen their freelancer populations increase by nearly 5pp, with nearly one in two SEE gig workers on the most popular platform now coming from one of the two countries.
Serbia was found to have the largest number of gig workers, accounting for 23.6 percent of the total number. By way of an illustration, Serbia's gig workforce was 20 percent more numerous than that of Romania, the second largest country. Read more ...

The changes seen over the past six months have thrown two trends into sharp relief. As in the previous survey, all countries have seen their freelancer workforces increase, with the greatest growth in evidence in Bulgaria, where the gig worker population has risen by 48.2 percent, and Bosnia and Herzegovina adding the fewest freelancers (at 14.4 percent). Differences between the countries in the pace of growth have caused a decline in the shares of all countries in the total, excepting for Bulgaria, Romania, and Montenegro, which actually increased their shares in the regional freelancer workforce.
NUMBER OF GIG WORKERS PER 100,000 POPULATION, BY COUNTRY
To ensure a fair assessment of the state of the gig market and eliminate the impact of large differences in size between the countries observed, the figure below shows the relative numbers of gig workers relative to country population. All countries recorded growth by this metric, the same as in the previous survey. However, the growth was not equally distributed everywhere. The greatest increases in gig workers per capita were recorded by the least populous countries, Montenegro (69) and North Macedonia (62), followed by Albania (44), Serbia (43), and Bulgaria (39), with the latter three also seeing significant growth.
Hungary added the fewest new gig workers (9). In the latest measurement, the combination of relatively significant growth and population size helped North Macedonia consolidate its leading position according to this criterion, as well as propelling Montenegro into second and Albania into third place, whilst Serbia slid back into fourth. All remaining countries had far lower freelancer populations, with Hungary trailing the pack with no more than 52 gig workers per 100,000 population.
REGIONAL GIG WORKERS BY PROFESSION
The latest measurement found some changes with how workers were distributed by occupation. The two most numerous occupations, multimedia and creative and software dev and tech, saw their relative shares in the total decline further. Clerical and data entry has also seen a contraction, with the remaining three occupations recording increases in their relative shares, the largest one seen in writing and translation (at 1.3pp).
Changes were also identified with freelancer activity rates. The average rate, measured as the percentage of gig workers active on particular projects at the time of the survey relative to the overall freelancer population, stood at 16.9 percent, an increase of 1.5pp over the previous measurement and 2.5pp over the same period last year.
As in past surveys, Serbia's freelancer population was found to be the most active (at 22.1 percent, a slight increase on the previous measurement). Even though Albania's share of the active workforce was the smallest, the activity rate there has also improved by a substantial margin of nearly 3pp. Elsewhere, activity rates ranged from 13.2 percent in Bulgaria to 19.9 percent in North Macedonia, whose gig workforce was ranked only behind Serbia's for activity.Read more ...

Nevertheless, the differences between individual countries were substantial. At the time of the survey, more freelancers were actively engaged in Serbia than in Albania, Bosnia and Herzegovina, Bulgaria, and Croatia combined. Similarly to what was found in the previous survey, Croatia, Hungary, and Albania all had similar numbers of active gig workers, although Albania's freelancer workforce was much larger than those of the other two countries.

For every 100 workers engaged at the time of the survey, 26 were doing their first freelance job. As in the previous survey, Albania registered the highest share of first-time gig workers (35 of every 100), followed by Bulgaria and Hungary (with 30 first-time active freelancers). Serbia was at the bottom of the list by this metric, with no more than 20 of every 100 active freelancers finding work for the first time.
REGIONAL GIG WORKERS BY COUNTRY AND PROFESSION
Although regional figures paint a balanced picture, the distribution of occupations by country exhibits major variations. Comparing the relative shares of particular occupations in each country with the regional averages reveals that some countries enjoy comparative advantages. Above-average relative shares for a particular country mean a profession is over-represented there, giving the nation a comparative advantage at the regional level.Read more ...

Rather clear trends for particular professions have been identified across the region as the relative shares of professional services and sales and marketing support have increased and those of creative and multimedia have declined in all countries. In a trend common to most of the region save Albania, clerical and data entry has contracted, as did writing and translation, except in Albania and Hungary. The region registered somewhat more pronounced differences in software dev and tech: whilst Montenegro, Croatia, and Serbia saw this occupation expand, the other six countries recorded a decline in this occupation. Judging by the developments in some of the occupations, the latest survey has found qualitative improvements relative to the previous measurement, with growth apparent in better paid professions and contractions in evidence across less lucrative occupations at greater risk of automation and global competition. This finding is a departure from the results of the past several surveys that had revealed opposite trends.

In addition, the overall freelancer population has increased by 14,211 since the previous survey. Rapid growth was observed in Bulgaria (at a rate of 48.2 percent), but the increase was anything but negligible in the remaining countries, too: even at its lowest, in Bosnia and Herzegovina, it stood at a substantial 14.4 percent.

Comparative advantages of the countries in certain professions

Comparative advantages were identified in both absolute and relative terms. In a finding unchanged from the previous survey, Albania enjoyed an absolute advantage – the largest share relative to the regional averages and to shares of other countries – in two occupations, professional services and sales and marketing support. All other countries have retained their previously identified absolute advantages, with Romania leading the field in software dev and tech, North Macedonia in clerical and data entry, and Serbia in creative and multimedia. The only new development has been the replacement of Hungary by Croatia at the head of the pack in writing and translation, primarily as a result of the greater growth of this occupation in Croatia relative to other countries.

Three groups of countries were identified in terms of their relative comparative advantages (defined as greater shares of freelancers in a particular profession in comparison with the regional average). The first group, comprising Montenegro and Hungary, registered comparative advantages in as many as four occupations, suggesting these countries outperformed the rest of the region by their specialisation in these sectors. In Hungary this could be driven by differences in the education system and the structure of the economy, whilst in Montenegro another factor was the country's relatively small size, where any changes, however limited they may be, have an impact on the structure of freelance labour supply. Moreover, Hungary recorded the same comparative advantages as in the previous survey even though the relative importance of some professions has partly changed. The country enjoyed the most pronounced advantage in professional services, a less marked one in software dev and tech, and slight advantages in sales and marketing support and writing and translation. Montenegro had a more significant comparative advantage in software dev and tech, a more limited one in creative and multimedia, and minor advantages in professional services and writing and translation.

Albania, Bosnia and Herzegovina, and Romania had comparative advantages in three occupations each. Apart from the absolute advantages referred to previously, Albania had an above-average supply of freelance labour in clerical and data entry. Bosnia and Herzegovina was more specialised in creative and multimedia, followed by writing and translation, and enjoyed a slight comparative advantage in software dev and tech. In addition to Romania having an absolute advantage in software dev and tech, the country's gig workforce was also specialised in professional services and writing and translation. These advantages meant Romania had the most favourable structure of gig labour supply in the region, given the demand for particular gig services and the average hourly rates in individual occupations.

The remaining countries enjoyed comparative advantages in two occupations each. Bulgaria led the pack in sales and marketing support, as in the previous reporting period. In addition to writing and translation, where it enjoyed an absolute comparative advantage, Croatia was also ahead in sales and marketing support but lost its edge in creative and multimedia. North Macedonia retained its comparative advantages identified in the previous survey, in clerical and data entry and sales and marketing support, whilst losing its lead in professional services. Interestingly, Serbia witnessed the best development in qualitative terms, having lost its comparative advantage in clerical and data entry but gaining a new one in software dev and tech (in addition to its marked lead in creative and multimedia).

Surveying of comparative advantages and their dynamics over time provides insights into the sophistication of national labour markets across the region. Even though they may be minor in scope, changes to comparative advantages are regularly identified in consecutive surveys and as such suggest that the supply side of the digital labour market is continuing to evolve and may still grow and undergo changes (including qualitative ones). Occupations in which a particular country (persistently) enjoys a competitive advantage point to both the value generated by that market and its vulnerability to shocks or overarching trends in the global gig work market. For instance, the vibrant freelancer population of North Macedonia and its strong growth over time ought to be viewed against the fact that most of the country's freelancers are concentrated in the least well paid occupation, clerical and data entry, which is also facing the greatest challenges from rapid technology changes such as those driven by the use of artificial intelligence solutions. Conversely, the large-scale growth of Serbia's freelancer population, accompanied by the major expansion of the software dev and tech workforce, goes some way towards explaining why Serbia is the only country in the region to make it into the global top 10 by freelancers' year-over-year earnings growth rates, which stood at 19 percent in 2022.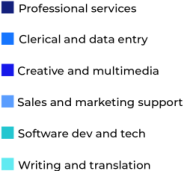 REGIONAL GIG WORKERS BY GENDER
According to the latest survey, the relative share of women in the gig workforce has again declined, continuing a trend seen in the previous measurement. Women accounted for 34.7 percent of the freelancer population, with men making up the remaining 65.3 percent. Albania's gig labour market was the most gender balanced, as women there made up 44.2 percent of the total, whilst Bosnia and Herzegovina registered the lowest share of women, at 29.8 percent, incidentally also being the sole country where women accounted for fewer than 30 percent of the gig worker population. All other countries in the region recorded women gig worker populations ranging from 31.1 percent (Hungary) to 39.2 percent (North Macedonia). Despite the ongoing downward trend in women gig workforce size, this region was still one of the leading parts of the world by women's participation, although it continued to lag behind South and North America, where the percentages were higher at 42 and 50 percent, respectively.
Women were less well represented in all occupations, but the differences were pronounced: for every 100 female gig workers there were 101 male ones in clerical and data entry, 106 in professional services, 132 in writing and translation, and 147 in sales and marketing support. Men vastly outnumbered women by a factor of 2.1 in creative and multimedia, whilst in software dev and tech there was only one woman for 7 men freelancers.Read more ...

The key change seen in the latest measurement was the increasing share of men at the expense of women in the freelance labour market. In professional services, it was only in Albania that women gig workers outnumbered their male peers by a significant margin (of 28.1 percent), whilst in other countries the population was either nearly split down the middle (as in Montenegro, Romania, and North Macedonia) or male freelancers vastly outnumbered women, as was particularly the case in Bosnia and Herzegovina, where men were 67 percent more numerous. In clerical and data entry, women outnumbered men only in Albania (by 23.8 percent) and Croatia (by 16 percent), both genders were equally represented in North Macedonia and Montenegro, whilst in the remaining countries men were more numerous, especially in Bosnia and Herzegovina (22.9 percent). The differences were particularly pronounced in creative and multimedia: in Bosnia and Herzegovina men outnumbered women by a factor of 3, whereas in Bulgaria the women gig workforce was smaller by 50 percent than the pool of men freelancers. Sales and marketing support seemed to be a male-dominated profession, with men outnumbering women by 65.7 percent, save in Albania, where the population of women gig workers was higher by 31 percent. Men were more numerous in software dev and tech, with the narrowest gap identified in Albania, where men gig workers outnumbered women by a factor of 3, and in North Macedonia, where the ratio in favour of men was 4 to 1, whilst the widest chasm was in evidence in Hungary and Montenegro, where men outnumbered women by more than 10 to 1. Whilst writing and translation was fairly gender balanced in the latest survey, except in Albania where women were 12.7 percent more numerous, in other countries the influx of new freelancers has led to women being outnumbered in this occupation.

As in the previous measurement, Albania was found to have the best gender balance in each occupation, with women even outnumbering men in as many as four sectors (professional services, clerical and data entry, sales and marketing support, and writing and translation). However, in contrast to the findings of the previous survey, where men freelancers outnumbered women across all professions only in Serbia, in the latest measurement this was also the case in Bosnia and Herzegovina, Bulgaria, and Hungary.
HOURLY RATES, IN US$
The past six months have seen growth in hourly rates accelerate. In a departure from the limited increases seen in the previous two measurements, the most recent study saw hourly rates rise on average by 6 percent, or US$1.25. However, this growth was only partially able to offset the impact of the skyrocketing costs of living. In addition, income growth was uneven across the region, with hourly rates increasing markedly in Bosnia and Herzegovina (by 11.3 percent) and Serbia (9.9 percent), but Hungary (1.8 percent) and Bulgaria (2.6) seeing little growth. These dissimilar trends have led to Croatia having the highest hourly rates in the region of US$25.1. By contrast, despite solid growth of 7.8 percent, North Macedonia has continued to lag behind the rest of the region, with hourly rates there standing at just 68.5 percent of those seen in Croatia.
The most significant difference was observed with the gender income gap. Hourly rates charged by women gig workers have on average continued to converge with those sought by men, with the average woman freelancer in the region earning 86.5 percent of the average income generated by her male peer.Read more ...

However, although the gender gap has been narrowing rapidly relative to previous surveys, even if the convergence were to continue at this rate women gig workers would need more than 11 years to catch up to the average income earned by men. In addition, the gap in this region is narrower than elsewhere in the world, where women have been earning nearly one-fifth less (as the average rates for women have been standing at 81.1 percent of those for men). Two issues ought to be considered when looking at the unequal increases in women's and men's hourly rates. Firstly, income growth was greater for women, at 7 percent vs 5.1 percent for men. Secondly, whilst women's hourly rates have seen fairly uniform growth across all countries (from 6 percent in Bosnia and Herzegovina to 9 percent in Serbia), for men freelancers the differences have been vastly greater, with average hourly rates even shrinking in Bulgaria and Hungary (albeit by a relatively minor percentage). Interestingly, the latest survey found that gig workers' hourly rates have increased the most in Bosnia and Herzegovina, by 11.9 percent.

The latest survey found the gender income gap was closing across the entire region. Bosnia and Herzegovina was the only outlier, being both the only country to see an increase in the discrepancy between men's and women's hourly rates and the country with the greatest income inequality, as women freelancers there were able to earn no more than 80.9 percent of the average hourly rates commanded by their male peers. The gender income gap was at its narrowest in Bulgaria, where women gig workers earned on average 90.4 percent of male freelancers' hourly rates.
_____________________________________________________
Recommended citation: Anđelković, B., Jakobi, T., Ivanović, V., Kalinić, Z. & Radonjić, Lj. (2023). Gigmetar Region, May 2023, Public Policy Research Center, http://gigmetar.publicpolicy.rs/en/region-en-2023-1-2/.
HOW GIGMETAR WORKS
GigmetarTM is the first instrument that describes the geography of digital work in Serbia and the region in terms of gender, income, and most common occupations. It is a result of the efforts made by the Public Policy Research Centre (CENTAR) to shed more light on the work on online platforms.
ABOUT US
The Public Policy Research Centre (CENTAR) is a team of innovative researchers and digital enthusiasts investigating the future of work and development of the digital economy in Serbia and South-East Europe.
Contact: gigmetar@publicpolicy.rs