GIG WORKERS IN THE REGION
Gigmetar tracks developments in the gig community in Serbia and across South-Eastern Europe, looking at Croatia, Hungary, Romania, Bulgaria, North Macedonia, Albania, Montenegro, and Bosnia and Herzegovina to highlight the similarities and differences between these countries and identify key regional trends. The results of our research, performed in May 2020, are presented below.
LEADING PLATFORMS
Upwork, Freelancer, and Guru are the most prominent global platforms by number of gig workers registered in the region; the relative shares of the three marketplaces are shown in the chart above. Upwork leads the field in Serbia, Bosnia and Herzegovina, North Macedonia, Montenegro, and Albania; Freelancer is pre-eminent in Romania; and Guru has the largest following in Croatia, Hungary, and Bulgaria. As Upwork is dominant in five of the region's nine countries, the analysis below focuses on this platform as the most representative freelancing marketplace in this part of the world.
SHARE OF GIG WORKERS BY COUNTRY AS % OF REGIONAL TOTAL
Serbia leads the region with more than one-third (36.4 percent) of all gig workers registered on Upwork. Significant proportions are also present in Bulgaria (about 15 percent) and North Macedonia and Romania (about 10 percent each).
NUMBER OF GIG WORKERS PER 100,000 POPULATION, BY COUNTRY
To provide a fair comparison of gig market development, this chart shows the number of freelance workers relative to each country's size as measured by population. Serbia is ahead of the region by this metric as well, with North Macedonia coming a close second. Romania has the fewest gig workers on Upwork per 100,000 population, but it ought to be noted that Upwork is the least popular freelancing platform there.
REGIONAL GIG WORKERS BY PROFESSION
The largest share of gig workers in the region are active in the creative and multimedia sector (nearly two out of every five) and software development and technology (almost one in four). This distribution is nearly identical to the situation in Serbia, where these two professions are also leading, with the highest participation of gig workers.
REGIONAL GIG WORKERS BY COUNTRY AND PROFESSION
Major deviations from regional averages are apparent in several countries. North Macedonia has a higher share of gig workers active in the clerical and data entry profession (nearly 70 percent above the regional average), whilst the proportion of gig workers in the writing and translation professions is higher in Hungary (by 63 percent relative to the region as a whole). By contrast, below-average shares of gig workers were recorded in the sales and marketing support occupation in Montenegro (63 percent lower than the regional average) and the clerical and data entry sector in Croatia (37 percent lower).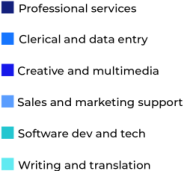 REGIONAL GIG WORKERS BY GENDER
Men dominate the platform economy, as two-thirds of the gig workforce across the region are male. Women are slightly better represented in Albania at 38.8 percent of the total, whereas, by contrast, only one in four gig workers in Bosnia and Herzegovina are female.
HOURLY RATES, IN US$
Gig workers are able to command the highest hourly rates in European Union (EU) member states, namely Croatia, followed by Romania, Hungary, and Bulgaria, whereas the lowest rates were recorded in North Macedonia. In this country the average hourly rates are 38% lower than in the leader in hourly earnings in the region.
There are also major differences in hourly rates between women and men. The gap is widest in Montenegro, where women earn on average only 70 percent of men's hourly rates; conversely, female gig workers in Bosnia and Herzegovina are able to command 83.9 percent of what men make. On average, women gig workers in the region earn 20.6 percent less than their male peers, with female incomes being lower by 17 percent in Serbia.
These differences can partly be accounted for by the dominance of particular professions in some countries. As shown above some countries have greater shares of gig workers in less well-paid professions, such as clerical and data entry, writing and translation, and the like.
_____________________________________________________
Recommended citation: Anđelković, B., Jakobi, T., Ivanović, V., Kalinić, Z. & Radonjić, Lj. (2020). Gigmetar Region, May 2020, Public Policy Research Center,http://gigmetar.publicpolicy.rs/en/region2-3/
HOW GIGMETAR WORKS
GigmetarTM is the first instrument that describes the geography of digital work in Serbia and the region in terms of gender, income, and most common occupations. It is a result of the efforts made by the Public Policy Research Centre (CENTAR) to shed more light on the work on online platforms.
ABOUT US
The Public Policy Research Centre (CENTAR) is a team of innovative researchers and digital enthusiasts investigating the future of work and development of the digital economy in Serbia and South-East Europe.
Contact: gigmetar@publicpolicy.rs